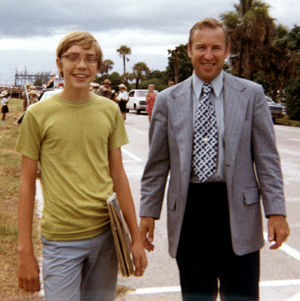 Don McMillan and Jim Lovell
In the summer of 1971 I was very fortunate to be in Cocoa Beach to see the "Moon Walk parade". At the parade route's end, just off the 520 at A1A I noticed Jim Lovell signing autographs and speaking with some space fans. I desperately wanted to speak with a real astronaut and to perhaps get him to sign my Apollo scrapbook. I was really nervous but I wandered up to him and asked if he might sign my book. Not only did he autograph my scrapbook he also took the time to stand with me for a photo which my folks took. He was a great guy and one of my favorite astronauts.
I still to this day have that scrapbook.


When I visited the Kennedy Space Center over 5 summers in the 70's, I was very lucky to have my parents take me down to witness the launch of Apollo 15. Two weeks before liftoff I took one of many bus tours and stopped at the observation area and shot these two images. Using the same technique the astronauts used to make panoramas I just recently stitched them together to make this large dramatic shot of the VAB and the Apollo 15 vehicle on launch pad 39A.
This flight has always been special to me. I would never in my wildest dreams think that some 30 years later I would research and construct a 3D lunar rover from this mission.

Apollo 15 on launch pad, 2 weeks before liftoff
On the morning of Apollo 15's launch, my family and I were on the beach at Cocoa Beach, right where the 520 causeway ends at the beach past highway A1A. On that morning we heard the first few seconds of the liftoff broadcast over the radio. Liftoff was at 9:34 a.m. on July 26, 1971. A few moments later looking north towards the Kennedy space center some 12-15 miles away we saw this very very bright wedge of light way off in the distance. Everyone on the beach stood up and looked towards the rocket and began cheering.
As it continued to move upwards into the sky we then began to feel the beach and water beneath our feet shake. We then heard the roar and a crackling noise like hundreds of firecrackers going off. We could follow the vehicle for some distance as it headed east over the Atlantic away from the Florida coast. We also could see the first stage dropping towards the ocean.
It is a day I have not forgotten and will never forget. I hope one day we will see such a trip to the moon again.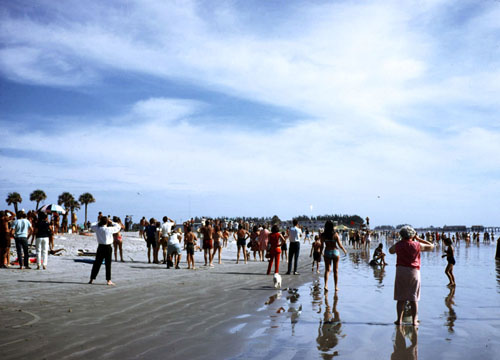 Apollo 15 launch seen from Cocoa Beach