wow what a weekend in Huntsville.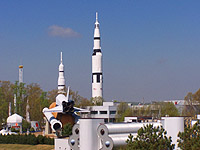 I attended the 12th annual Moon Buggy Races which allowed me to finally meet Ron Creel and Stephan Guenther in person. They are my LUROVA compatriots whom I am helping with on the simulation. The races allowed us to show the simulation and get feedback right away from the folks who dropped by. I was also very happy and honored to unveil my Lunar Rover poster and pass out over 70 copies to each entrant. Marshall space Center has an impressive history which includes development of the lunar rover so I was thrilled that their facility was the first to see it.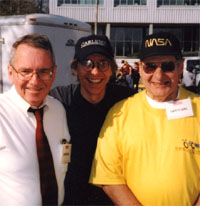 left to right: LRV thermal team member Ron Creel, Don McMillan and LRV program manager Sonny Morea
It was very cool that along with Ron Creel, two other original rover team designers could visit. Sonny Morea who was the rover's project manager and Otha "Skeet" Vaughan. All three were very gracious and wandered the course speaking with team members. Ron introduced me to Sonny and Ron had given him a poster. Sonny thanked me but hadn't seen the poster. A little later, he stopped me and said how impressed he was with my work and how much he liked the poster. Well I have to say that was very cool!! On the weekend we gave out more than 125 copies of the poster to NASA officials and moon buggy participants.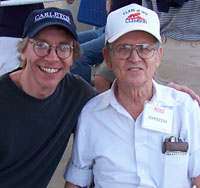 Don McMillan and LRV team member Otha "Skeet" Vaughan Jr.
I was thrilled that i could also visit the U.S. Space & Rocket Center's museum which has a wide variety of space hardware. I focused on the apollo area which has the Apollo 16 command module and has models of both the lunar module and lunar rover. Luckily the LM model has an SSE assembly on it and i was able to get a good closeup look of the walking hinges. I was amazed at how close i was in modeling the details. I might end up tweaking some very minor pieces but everything else is very very close.
I was very fortunate to speak with all three rover members about their background and how they got into NASA and the lunar rover program. I had a video camera with me and was able to speak to them about how they got involved with NASA and the rover program. It was also great to find out what they did after Apollo. All three are active in various endeavours and are very inspiring.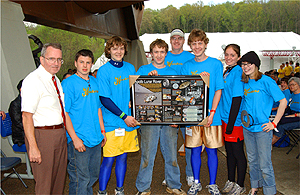 Ron Creel with winners of the "Most Unique Buggy"- Lafayette County C-1 High School Team Two, Higginsville, Mo. (Photo by Doug Stoffer)
The races were divided into 2 - friday was the high schools and saturday included the universities. A high school award given to the most unique buggy. Lafayette County C-1 High School team two, Higginsville, Mo., won this award. Pictured right are the winners with a framed copy of my poster.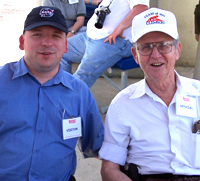 Stephan Guenther and LRV team member Otha "Skeet" Vaughan Jr.
Stephan Guenther from Germany travelled to the races and we were able to meet with him and discuss LUROVA. He set up his table under the Shuttle model and got instant feedback when folks demoed the software. LUROVA has a number of my animations including the rover deployment and battery cover opening. I also rendered the rover rotating 360º and some renders of the astronauts on the rover and raking lunar soil. Stephan has just completed another terrific Apollo multimedia project entitled "Saturn V Explorer".
Click here to visit his site
.
I can't thank the folks at the U.S. Space and Rocket Center enough. They were very friendly and extremely helpful. In particular i want to thank, Martin Jensen, Durlean Bradford and Frank Brannon.